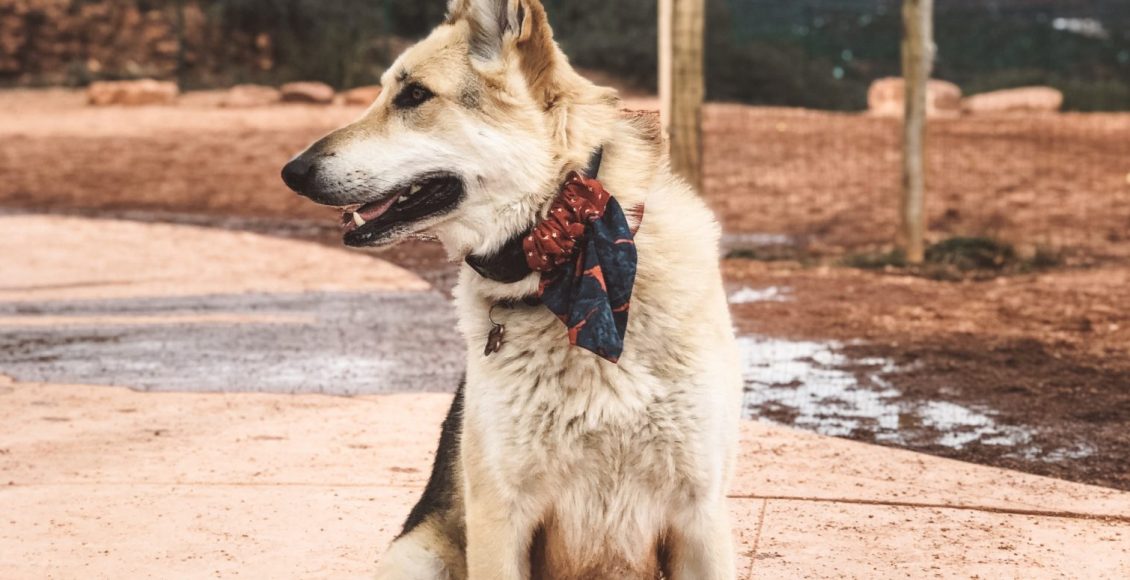 Dog Friendly Guide to Sedona, AZ
This post is sponsored by Room Key.  All text, opinions, and advice are my own.
If you haven't figured it out yet from my plethora of cacti photos on the 'gram, I'm currently spending a few months in Tucson, AZ.  Besides summers in Alaska, this is one of the longest stretches that I've been in one place in awhile! I'm on a little pause from living full time on the road, but the traveling certainly hasn't stopped.  A need to wander is embedded into my DNA for sure! While I've been living in a house that isn't on wheels, I've made it a point to keep exploring when I can. So when Room Key reached out to me to partner with them, I was absolutely thrilled and couldn't wait to share with you guys.  
Have you ever heard of Room Key?  If not, you're in for a treat.  You guys know I'm all about that camper van life (Zep and Atlas the RV really changed me the last 6 years), but sometimes you just need a good hotel to be able to explore wherever your heart desires!
Room Key is a hotel search site without all the phony prices and gimmicks that you see on other travel sites.  It puts the users' interests first (what a concept!)-what you see is what you get.  
So how does it work? Like any other hotel booking site, you simply type in your dates and destination.  But unlike any other booking site, you're getting info straight from the source. As you scroll through various options, you're seeing hotel loyalty prices side by side with the general public prices, so you can really see how much you can save each night just by being a loyalty member.  I had no idea before using Room Key that it's actually completely FREE to join hotel loyalty programs and get cheaper rates!  So Room Key does the annoying work for you and shows all the discounted rates in one place.  When you decide on your fave hotel and click to book, you are actually taken straight to the hotel site to complete the process! Read more here on why you should book directly with the hotel.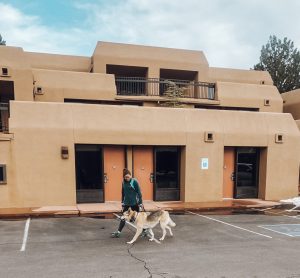 Using Room Key, I booked a hotel so I could adventure in Sedona, AZ.  Have you ever been to Sedona? It is straight magic! I've seen a lot of incredible places, but honestly Sedona is at the top of my list.  It has a certain sort of energy that really can't be explained. Go for yourself and find out! And bring your pup when you do, because of course I took Kobuk with me to hunt out all the best fur child favorites!  Because, #neverleavethedogbehind. Sedona is incredibly dog friendly. From hotels, to dining, to wild exploring-you can spend an entire week in Sedona and have your furry bff by your side the entire time!
Stay
Room Key shows options for many dog-friendly hotels, but we ended up at the Sky Rock Inn of Sedona (previously known as Best Western Inn of Sedona).
There's a cute little paw icon on the Room Key listing that let me know that this hotel was Kobuk-friendly. (Pro tip!  If you fall in love with a hotel but it doesn't appear to be pet-friendly, call them and ask! Sometimes they don't advertise that fact, when they actually do allow certain pets).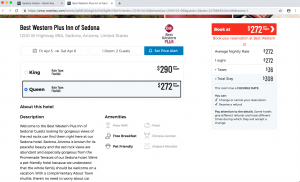 You guys, this hotel truly blew me away! It was extremely affordable, and the service was beyond what I expected.  To be honest I never expect much from a hotel (RV life spoiled me!), but the friendliness and constant accommodating spirit here were so special.
Kobuk was a hit with the entire staff of course, and was fed endless treats.  They were so nice and always made sure we had everything we needed to enjoy our stay.  We were also given a collapsible dog bowl and doggy poop bags upon arrival as a welcoming gift!  Any place that puts pups first gets allll the brownie points from me.
Not only did they make us feel at home with Kobes, but the Inn of Sedona had the prettiest views surrounded by red rock and patios outside of every room to soak up the scenes.  
Other options for pet friendly stays are the Hampton Inn Sedona, Holiday Inn Express, Arroyo Pinion, Hilton Sedona Resort, Sedona Rouge Hotel, and Arabella Hotel Sedona.  
Eats
Just because your hotel is dog friendly, doesn't mean you want to leave your pup behind when you go eat! After hearing multiple positive reviews, we ended up at Creekside for dinner.  It was so so delish!! We sat on the patio with heaters and blankets and it was perfectly warm.  I mean the hot toddy definitely helped too. We had the bruschetta and the ribs, which were to die for. The best part about Creekside?  They had a dog menu!! With options that literally sounded good enough for me to order.
Another pup friendly restaurant you should absolutely check out is Chocolatree Cafe.  They are 100% organic and farm to table, so of course I loved it instantly!  They have the cutest patio that is perfect on a sunny day.
Most restaurants allow dogs if they have a patio, so it's always worth calling and asking if neither of these speak to you!
Trails/Exploring  
The best part about Sedona with pups is that almost every single trail is dog friendly.  When I was there, it was right after the absurd snow storm that passed through AZ, and most of the trails were actually too dangerous and icy to go on!  The trails below were some of the only options that weren't completely covered in snow or ice. Be sure to check conditions depending on what time of year you go. Remember, what sounds easy to you may not be so easy on your dogs' paws so keep that in mind too.  
Sunrise trail(1.5 miles)-This trail was walking distance from the Inn of Sedona.  It did go right along the road most of the time, but it was still stunning!  Red Rock views are in sight the entire time, and it's an easy walk even with snow.  It also goes right through the Sedona Dog Park, which Kobuk was ecstatic to find! This dog park was gorgeous and maybe the best I've ever seen-and I've seen a lot of dog parks across the country!  There was a trail shooting off of the park's main play area that went up a bit to a bench with a sunrise view! It was even fenced in and considered part of the park so your dog could still be off leash.
Adobe Jack trail(2 miles)– Another trail that is within walking distance of the Inn of Sedona!  It's a newer trail, which meant that it was way less populated than some of the other well known trails.  We went right at sunrise and it was so peaceful. There are also a few options for other trails that cross this one, so you can make your hike longer than 2 miles.
Fay Canyon trail(2.5 miles)-This trail is a fairly easy and flat walk, but the views do not disappoint!  My favorite part about this trail are the vivid colors of Sedona at every turn.  When you get to the end, you can climb up the rocks for a stunning view! I also heard that in better weather conditions, you can continue hiking after climbing up the rock but it's a more treacherous trail.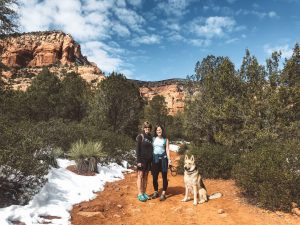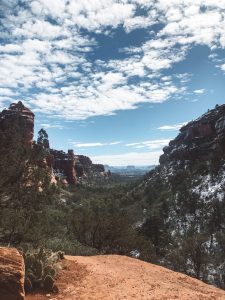 Keep in mind that you need to have your dog on a leash on all trails, and please pick up their smelly poops!  
Have you ever been to Sedona?!  There are so many trails, you could explore for days!  Leave a comment below and tell me some of your favorites!  
And please message me if you have any questions regarding Room Key and the hotel booking process.  
Please follow and like us: