Guide To Tamarindo, Costa Rica
Costa Rica has a certain sort of magic energy that I've never experienced anywhere else.  I was there for 2 months, and feel like I need to go back for longer to squeeze out every magical drop.  Because I was doing a work/living exchange (totally recommend if your solo traveling for long term!), I was actually in one area the entire time!  There are so many amazing places to visit in Costa Rica, and I definitely plan on going back to explore more. But this is my guide to Tamarindo! A little surf town that I fell more in love with everyday.
Keep in mind that this is MY guide.  Everyone's experience here will be totally different.  A lot of people have a hard time with the amount of tourists, but luckily I was there during rainy season mostly (October/November), which means way less people were there than usual.  I highly recommend going this time of year! I also came during a time where I desperately needed a total solo experience in a new country, and this place did more for me than I could have ever imagined.  It's indescribable really, all the growth that I experienced while living here. So the best I can do is give you a guide to create your own incredible experience when life gives you the gift of Costa Rica!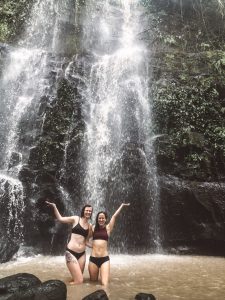 What did I love most about Tamarindo?
The sunsets!  They are unreal.  I swam in the ocean every single day.  My hair was forever a salty tangled mess, and I freaking loved it.  I lived without shoes, in my swimsuit, or as little clothes as possible (it's too hot for clothes!).  Which is perfect, because I actually thrive in warm weather. I love that it's a tiny town and I could walk everywhere.  I love that it is fairly easy to be healthy (although I was definitely missing some American health brand staples!). I love the people, and how full of joy they are all of the time.  I met some amazing friends. And mostly, I LOVE the slow, pura vida lifestyle.
Things to do
Surf!
I got to work at a surf shop, and it was a blast.  Tamarindo is known for it's amazing beginner surfer waves, so definitely make it a point to get on the water when you go!  The best place to take lessons and rent boards is Iguana Surf Shop. The staff is incredible, and the instructors make the entire process so much fun.  You can also rent SUP and boogie boards here!
There are many other beaches close to Tamarindo that you can go to surf as you improve such as Langosta, Avellanas, and Playa Grande.  Don't do what I did and try to surf bigger waves before you're ready, you'll end up with bruised ribs!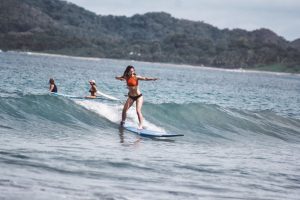 Beach Time
Because I was there in the off season, the beach wasn't too crowded most of the time.  Tamarindo is so small, you can essentially stay anywhere and be walking distance to the beach.  The sun is very intense here, so be sure to lather up with sunscreen (this is my fave)!
Take a surf lesson, rent a paddle board, or just bask in the Costa Rica sunshine.   
Nearby Adventures
There are a lot of different guided tours you can do during your stay in Tamarindo.  While I was there I was able to go on a catamaran sunset sail, zipline, raft, horseback ride, and see some amazing waterfalls.  Iguana Surf can book all of these different tours for you!
Rio Celeste is just a couple hours away, and it is the most beautiful river you will ever see.  If you go during slow season you can even find a spot to swim in it without a soul in sight!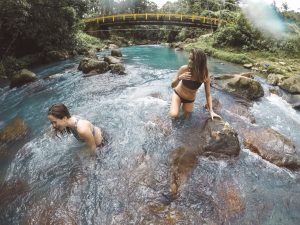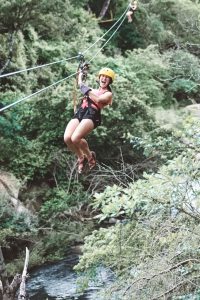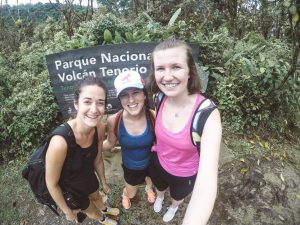 Markets
Every Thursday there is the Thursday Night Market- an amazing set up of local artists, delicious food, and live music!  On Saturday mornings they have the ferria, or the Saturday Morning Farmers Market. Similar to the Thursday market but with no live music and more vendors set up.  There are also some fresh fruit stands at the farmers market, in addition to a lot of homemade breads, jams, spices, sauces, and different coffee brands. My mouth is watering a little just thinking about it!   
Groceries
Because I was here for two months, I spent a lot of time cooking!  If you find yourself not wanting to eat out for every meal, I've got some grocery store suggestions.  In Tamarindo some grocery items are very cheap, while others are more comparable to States prices, or even more expensive.  The cheapest produce can be found in the trucks selling on the side of the road!
My favorite store in town is Pimienta Verde Mercado Organico, the health food store!  They have all organic produce that comes in fresh twice a week, as well as eggs, bread, bulk items like chia seeds and nuts, and a bunch of imported American health brands.
The biggest grocery store nearby is about a 15-20 minute walking distance outside of town- Auto Mercado.  They have the most options by far of any store around, and a lot of fresh produce!
Eats
Coffee Shops
Cafe Tico
The BEST banana bread in all the land.  And Tamarindo has a plethora of banana breads, so this is saying a lot.  The owners are so kind, and they also make my favorite iced coffee. If you like chai, they do their iced chai blended, and it's a delish treat! There's only outside seating, but it's covered so no worries during the downpours.
La Bodega
The staff is so amazing here as well, and they have delicious baked goods!  I also love their honey green tea. Similar to Cafe Tico, all seating is outside but there are fans for the extra hot days.   They have a full breakfast and lunch menu, which I actually never got to try, but it's all organic based and looks incredible!
Nordico Coffee House
One of the coffee shops in town with the most seating, and they also stay open a little later than other locations.  Nordico has a few food items, as well as smoothies, pastries, and all coffee drinks. My favorite thing to get here is the granola!  They have homemade granola that's sweetened with honey, be sure to stock up- the banana kind is definitely the best.
Santa Rita Cafe
Maybe my favorite!  They have delicious chocolate chip banana muffins, breakfast/lunch, smoothies and bowls, and amazing iced coffee with coffee ice cubes (honestly brilliant).  I love sitting outside on their patio and watching the ocean. They also serve their drinks with metal straws, so it was love at first sight.
Pico Bistro
To be honest their food and drinks aren't necessarily my favorite, but it definitely has the best views in town.  It's right on the beach, and the walls are all glass! It's the best place to go when it's rainy and you don't want to be outside, but still want to see the ocean!  I would often go here for the vibes.
Restaurants
Patagonia
The BEST steak I've ever had in my life.  Confusing, I know. Go to Costa Rica to get the most amazing Argentinian steak you'll ever eat!  They also have great wine options, and delicious desserts. This place is always poppin, even in slow season, so be sure to make a reservation!  
Green Papaya
My other favorite restaurant in town.  They have incredible tacos, and the yummiest homemade tortilla chips!  All of their ingredients are super fresh. But the best part? The patio has swings to sit on instead of chairs!  I'm honestly drooling thinking about those chips.
Sprout
Another amazing healthy option!   It's american style food, with a focus on organic and fresh.  They have breakfast, lunch, and dinner and try source mostly from local producers!
La Oveja Negra
The best vibes.  There is always something happening here, and lots of live music!  They have a full bar, and their food ranges from delicious tacos, to stuffed burritos, to a surprisingly amazing pesto salad.  Be sure to order the passion fruit cheesecake for dessert!
Wrapsoda
My favorite Costa Rican food in town!  It's locally owned, so cheap, and so delish.  The Pollo En Salsa casados is amazing. My favorite part of any Costa Rican dish is the plantains, so don't miss out on those!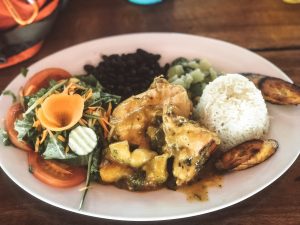 Noguis  
Definitely a bit touristy, but the seafood is actually really good!  My favorite part about this place is their seating outside-right on the beach!  Come here during sunset, you won't regret it.
Vida Bowls
The worst part about Vida Bowls is that they are a food truck and only in town twice a week!  By far the best smoothies and acai bowls in the Guanacaste area. All ingredients are fresh, and the end result is very instagramable. The owners are the sweetest, and they would always add my protein when I brought it!  In Tamarindo you can find Vida Bowls truck at the Thursday and Saturday markets.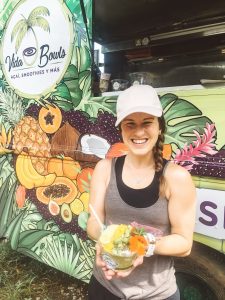 Wellness
Kalisage Day Spa
I experienced an incredibly healing reiki and cupping session here!  The ower, Kallie, is wonderful and is truly passionate about her work.  Pop in for a massage or cupping after all that surfing!
Tamarindo, Costa Rica has an immensely special place in my heart.  I hope one day you get to experience the magic! If there is one thing you do while here, embrace the Pura Vida lifestyle.  It was the biggest challenge for me at first, but the real growth happened when I surrendered. There is so much beauty in slowing down and living as simply as possible.  Be present, find joy in everyday, and have immense gratitude for every aspect of this life. Oh, and swim in the ocean at sunset!!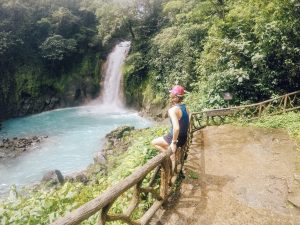 Please follow and like us: