We had driven from super flat & dusty Oklahoma with hopes of finding adventure in New Mexico, along with a decent laundromat. When I'm away from the desert for awhile, I realize that I start to crave running through trails full of cacti, and the refreshing feeling you get when the warm sweaty day turns to a chilly night. We found ourselves at the cutiest little RV park called Santa Fe Skies, in Santa Fe. We mostly prefer to boon dock, (this basically means parking out in the wilderness for free, with no people around) but usually in bigger cities it is hard to find wilderness camping spaces big enough for the RV that are close enough to drive to town to explore. The only downside was that they had 2 working wash machines at the park and about 20 dryers, so I almost had to fight a woman to put my next load in the wash. Don't worry, we arranged a sharing situation sans violence. Anyways, the RV location was perfect and I highly recommend it to anyone looking for a great place to park in Santa Fe!
 We discovered Santa Fe is surprisingly known for it's running trails, so we had to see for ourselves. I received quite the humbling kick in the ass when I instantly felt like I was going to faint the first few steps into the trail. Who knew Santa Fe sat at 7,000 ft elevation! I felt like an overweight elephant trying to run up that hill. But it was totally worth it, of course. The trail we ran was in the Dale Ball Trail System and we also ended up hiking the Atalaya trail the next day. They were both so beautiful! There are many other trails in Santa Fe, but these were perfect for us.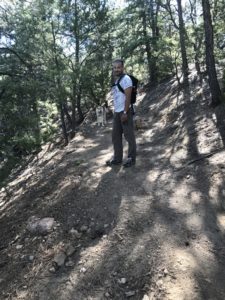 The food in Santa Fe was a game changer for sure. We cook about 85% of our meals, but always go out in a new city to get the full culture experience. I'm a foodie and love to hunt out the best local spots and I'm also a sucker for any place that incorporates sustainable farming into their menu. If I see the words "organic, local, or grass-fed" while looking up reviews online, I'm sold. We discovered a local place called Cafe Pasquals and it changed our lives. It was the size of a small coffee shop and you sat basically elbow to elbow with the table next to you, but it was so worth it. Included with your meal- entertainment via eavesdropping on the conversation taking place at the table essentially right next to your ear. I'm pretty sure you couldn't go wrong with anything on that menu! I ordered an enchilada platter that was full of cheese and sour cream and it was worth the tummy ache that followed for sure. It's all about balance 🙂

I was able to check out the Santa Fe Farmers Market, which is rated one of the top in the nation! It was incredible, and I was geekin out the whole time. Allll the samples and fresh produce. I also stumbled upon some organic low sugar lavender raspberry jelly, and my Almond Butter Jelly Sandwiches haven't been the same since. One of the best parts of traveling is being able to eat local in every area. If you find yourself in Santa Fe, I highly recommend the Farmers Market!

We also explored the downtown area, that I'm certain held every tourist that was in town that day. It was a bit too crowded for our liking, but we hung out for a bit anyways. If you want to see local art and shopping, this is the place to go! My favorite part of downtown exploring was for sure the $12 burrito (worth every penny) we got from Cafe Pasquals and ate with no shame outside behind the building. It was almost better than our dinner from the previous night!
After a rough couple days eating our weight in Mexican food and running through beautiful mountains, we decided it was the perfect city for some extra self care (treat yo'self!) and got massages at High Dessert Health Care and Massage. Both our masseuses were amazing! Santa Fe is known for it's many spas and relaxation centers. I would definitely recommend considering adding a massage to your time in Santa Fe!
Please follow and like us: