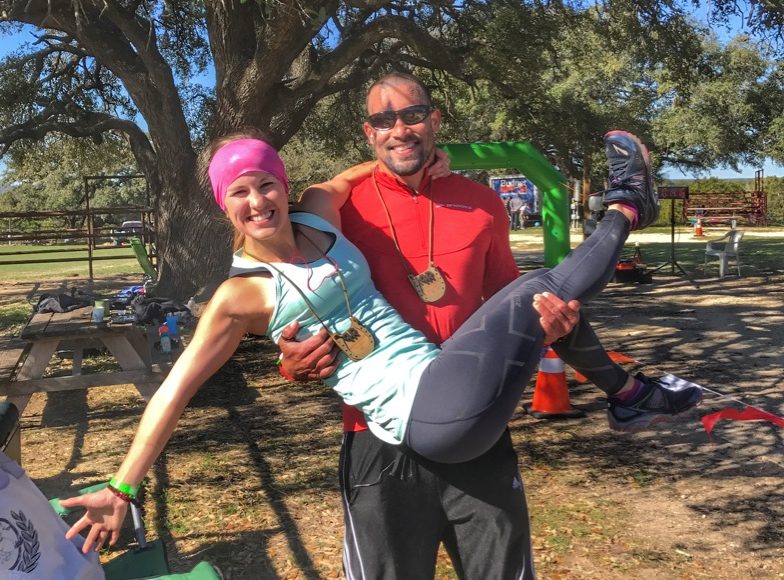 Spectrum Trail Racing: Saddle Blazer Trail Race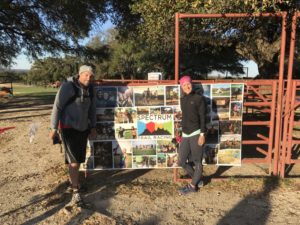 I was slightly nervous for this trail half marathon not only because trail races are always harder than street, but also because I had run Austin Marathon 6 days ago and my poor legs didn't really want to run 13 miles so soon!! BUT, it ended up being an amazing race and I proved to myself that I could handle (and feel strong!) running 2 intense races in a week!
The race was held in Killeen, TX at Parrie Haynes Equestrian Center. What most participants did was bring all their gear and camp for the weekend right on site, so we were able to bring Atlas! Of course we were the only ones with an RV (we never quite fit in..) but I was grateful to have the whole house with us for getting ready on race morning. The night before the race they have an outside movie and bonfire set up for everyone to relax before the big day! Naturally, we got there too late and missed this, but it sounded nice.
Race morning arrived and we had no clue what we were about to get ourselves into. The course ended up being one of the toughest I've ever run! It was so beautiful, but we were warned there was going to be *some* water to go through. Turns out there was an entire quarter mile running upstream through a freezing cold creek past my knees!! It was insane, and I actually wanted to shed some tears at some point, but I'd be lying if I said I didn't feel like a bad ass trying to run through thigh high ice water. Granted it was only .25 of a mile, but at the time it felt like a 5k. We both did so great during the race, I was super proud of Chris! It was only his second race ever, and we crossed the finish line just a few seconds apart (I like to sprint ahead and kind of feel like I'm about to die while crossing the finish line).
The post race festivities were honestly just as good as the race itself! They had locally made burritos (actually drooling thinking of these now), FREE massages by the wonderful Jaime Orf from Austin, a smoothie booth, recovery boots, and most importantly- the Lululemon traveling sweatbox. This is basically a magical Lululemon traveling truck with a treadmill inside. They go to different racing events and let you test out product, and then KEEP said product. I would definitely run another 13 miles through rough terrain if it meant I was given more lulu pants. I also convinced Chris to try some shorts, and now he is a Lululemon fanatic as well, but don't tell him I told you.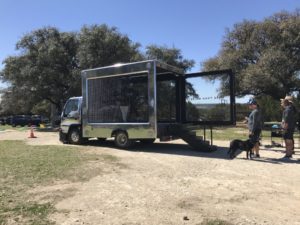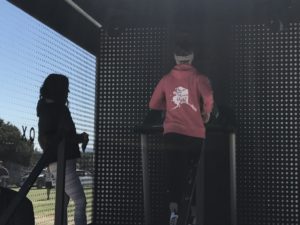 Just as good as the free lulu gear, was meeting all the amazing people of Spectrum Trail Racing. We hung out by the bonfire for hours and bonded over burritos and running. I've never experienced a race that turns into an all day event, new friends included. It was incredible, we had such a good time!
This race was even more awesome than we expected. We kind of stumbled upon it online randomly, so we didn't know what to expect. I can safely say that smaller races is where it's at. I was so impressed with how well put together it was, and we love the people of Spectrum Trail Racing! They do events all over Texas, so if you love the trails like we do, I highly suggest signing up for one of their races! You'll experience so much more than just a few memorable miles. You might even walk (limp) away with new friends and free lulu's 🙂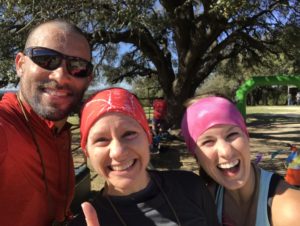 Please follow and like us: